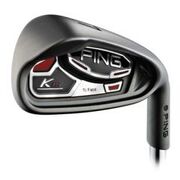 Golf Iron is the most useful golf clubs that every golfer have in their bags. Golf Irons help to play to hit the ball into the hole. Iron are the long, medium and short distance golf clubs. Usually in the Par 3 holes, where golfers use the irons to hit their hole in one. The Irons in golf have a lot of types:
Driving Irons:
Long Irons have the lowest and the longest iron have 14 or 16 degrees loft. This Iron are now replaced with Wood golf clubs. These Irons are not seen anymore today and they are rare.
Long Irons
Long Irons are the lowest and hightest loft, and this iron is common until today.
Mid-Irons
Short Irons
10 - Irons (Pitching Wedge)
Sand Wedge
Lob Wedges
Utility irons have the multi-function when the golfer uses the utility irons it can be use for a lot of situations like wedges, fairways.
Golf Iron Brands: